Foster-Melliar pioneered ITIL®, a Service Management best practice approach in the early 1990's in South Africa. Our initial journey evolved to bring together some of the country's best skills and experience in the ITSM industry. 
We supplemented our expanding ITIL portfolio with complementing best practices which include:
COBIT, best practices for

IT Governance;

 
DevOps, best practices that combines Software Development and Information Technology Operations which shortens systems development life cycles and provides continuous delivery with high software quality, and;

 
Agile, best practices relevant to Software Development Projects.
Best Practice is a methodology that has been adopted from multiple industries to consistently show results superior to those achieved with other means, and that is used as a benchmark for service delivery across industries. In addition, a "best" practice becomes better as new improvements are discovered.
Foster-Melliar Learning Solutions work with organisations using IT Best Practice Frameworks to ensure that organisations can add value to their customers, reduce operating costs and fast track performance.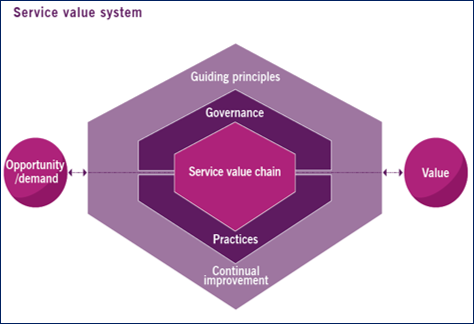 ITIL® is a registered trade mark of AXELOS Limited, used under permission of AXELOS Limited. All rights reserved.
Our Best Practice Service Offering considers three key aspect that provides our customers with a holistic service benefit approach. These are discussed below as follows:
Best Practice Training and Education
Best Practice Training 

And Education
SERVICE MANAGEMENT COURSES
The implementation and management of quality IT Services that meet the needs of the business has become a critical element of IT Management.
Using the principles of IT Service Management contained in these our courses, IT will be able to establish processes and capabilities to ensure IT is managed effectively and efficiently from a business perspective.
ITIL® (Information Technology Infrastructure Library):
ITIL® is a registered trade mark of AXELOS Limited, used under permission of AXELOS Limited. All rights reserved.
ITIL® 4 Foundation
ITIL 4 is built on the established core of best practice in the ITIL guidance. ITIL 4 provides a practical and flexible approach to move to the new world of digital transformation and embrace an end-to-end operating model for the delivery and operation of products and services. ITIL 4 also provides a holistic end-to-end picture that integrates frameworks such as Lean IT, Agile, and DevOps.
ITIL® 4 Specialist - Create, Deliver & Support
The Create, Deliver & Support Specialist certification is the 'core' service management program, and relevant to everyone working in a service management profile. Whether you are interested in going for the ITIL Managing Professional Designation or not, this certification is a must have for anyone working in ITSM.
ITIL® 4 Specialist – Drive Stakeholder Value
The Drive Stakeholder Value Specialist Certification is relevant to everyone in a supplier facing role. This means those managing one or more suppliers and working with suppliers in providing a single integrated service management organization.
ITIL® 4 Specialist – High Velocity IT
The High Velocity IT Specialist Certification is relevant to everyone working in Agile and DevOps Teams focusing on the rapid delivery of IT solutions.
ITIL® 4 Strategist – Direct, Plan and Improve
The Direct, Plan and Improve ITIL Strategist Certification is relevant to managers at all levels within the IT organization.
ITIL® 4 Specialist – Sustainability in Digital and IT
The course provides the practical skills necessary to enable an organization to deliver value by introducing sustainable practices. With the help of ITIL® 4 concepts and terminology, activities, exercises, and examples included in the course, you will acquire relevant knowledge to pass the ITIL® 4 Specialist: Sustainability in Digital and IT certification exam.
ITIL® 4 Specialist – Acquiring & Managing Cloud Services
The ITIL® 4 Specialist: Acquiring and Managing Cloud Services examination is intended to assess whether the candidate can demonstrate sufficient understanding and application of the concepts covered in this course to align and integrate key elements of the ITIL framework such as the Guiding Principles and the Service Value Chain with a 'cloud services user journey.
ITIL® 4 Leader – Digital and IT Strategy
The Digital and IT Strategy Leader Certification is relevant to those in a leadership capacity within the IT domain. If you are a new and aspiring leader looking to build and implement an effective IT Strategy, or you are an existing manager keen to take your leadership skills to the next level, this program is for you.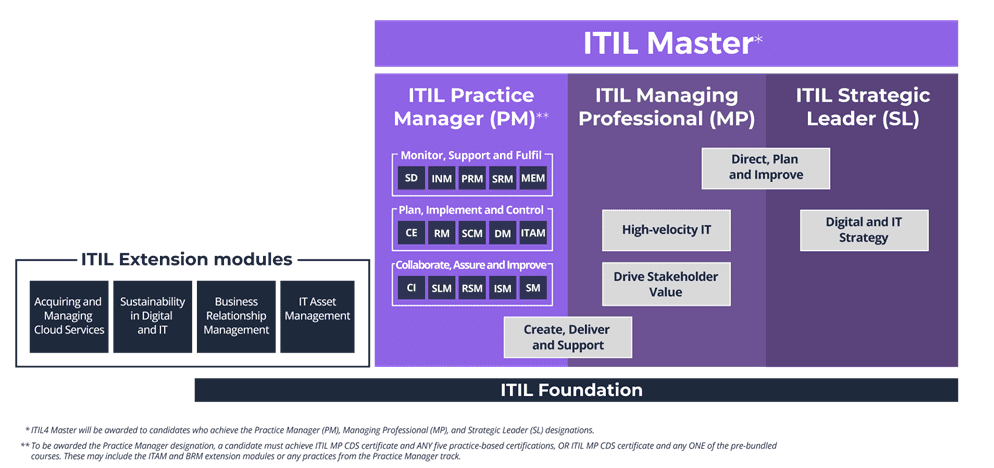 ITIL® is a registered trade mark of AXELOS Limited, used under permission of AXELOS Limited. All rights reserved.
DASA DevOps Fundamentals
DevOps training is the starting point for an organization going on the DevOps journey. Improved workflows and faster deployment start with a core understanding of DevOps fundamental concepts by anyone involved in an Agile and/or DevOps team.
IT GOVERNANCE COURSES
Our Risk and Governance courses provide you with extensive and practical knowledge on how to manage risk and enterprise governance. These best practice courses provide you with guidance on what governance is and how you can build your infrastructure to ensure governance controls are implemented and effectively applied.
COBIT2019 Bridging
The COBIT®2019 governance framework goes well beyond information technology and IT department functions. Good governance is a vital element to strategy formulation and business transformation success.
COBIT2019 Foundation
The globally recognised COBIT Framework, which helps ensure effective enterprise governance of information and technology, has been updated with new information and guidance, facilitating easier, tailored implementation – strengthening COBIT's continuing role as an important driver of innovation and business transformation.

PROJECT MANAGEMENT
Managing structured projects is key to the success of any IT environment and beyond.
Whether you prefer a traditional approach to project management or prefer a more Agile approach, each of our courses provide practical, structured and detailed information on how to establish effective and efficient controls within your project environment.
AgilePM®
AgilePM® is a highly flexible and interactive methodology. It includes standards, rigour and visibility you would expect from an established project management methodology, while at the same time enabling the fast pace, change and empowerment provided by AgilePM®.
SERVICE DESK:
Key to any organization success for engagement between the Service Provider and the Service Consumer and Customer is the Service Desk. The Service Desk is the ambassadors of the Service Provider that act as the SPOC (Single Point of Contact" for the customer to the Service Provider. Our courses supports organisations to optimize their Service Desk for efficient delivery of customer value.
HDI Support Centre Manager
HDI Support Centre Manager are responsible for executing the operational and tactical plans of the support organization while satisfying customer and business needs.
HDI Desktop Support Technician
HDI Desktop Support Technician support professionals spend much of the day visiting customers at their workstations or home offices, providing technical support for many desktop systems.
HDI Customer Service Representative
Frontline customer service representatives interact with your customers every day. This skills-building and certification course introduces the skills and techniques required to provide outstanding customer service and support.
HDI Support Centre Analyst
Help desk professionals and support centre analysts provide frontline support and act as the primary contact for customers. It is important that these service desk professionals provide the highest quality customer care with every interaction.
PARTNERS & ACCREDITATIONS
PARTNERS & ACCREDITATIONS
ITIL® is a registered trade mark of AXELOS Limited, used under permission of AXELOS Limited. The Swirl logo™ is a trade mark of AXELOS Limited, used under permission of AXELOS Limited. All rights reserved.
Our Head Office:
Switchboard + 27 11 807 9525
Physical Address:
Building 17
Sunninghill Office Park
Peltier Drive
Sunninghill
2157
Postal Address:
P. O. Box 997 Sunninghill 2157 South Africa